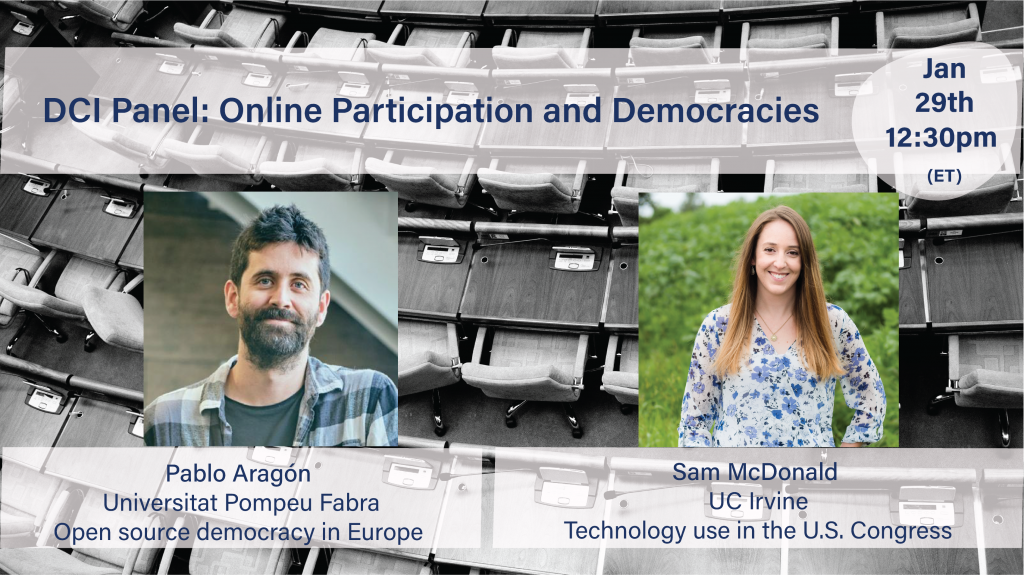 January 29th, 12:30 – 1:30 pm (ET)
Panelists:
Sam McDonald, University of California, Irvine, US (she/her)
Pablo Aragón, Universitat Pompeu Fabra, Barcelona, Spain (he/him)
Online event: please register here for the zoom link.
Increasingly, digital tools are mediating participation in the design and development of solutions to common issues, with examples ranging from workplace information systems to national governance planning and international policy development. As a result, technologies are seen as essential to facilitate civic participation and deliberative processes worldwide. But what does the use of technology in politics means for our democracies? What are the power dynamics that influence this technopolitical field? How can we strive towards equitable, participatory, and sustainable futures using technology? What are the tensions and opportunities at the intersection of democratic values and technology markets?
Some of these questions, and more, will be discussed in this panel with two academic experts on technology and democracy. 
About Sam
Sam is an Informatics Ph.D. candidate in the Donald Bren School of Information and Computer Sciences. Her research is in the intersection of human-computer interaction, representative democracy, and civic tech. Sam's doctoral dissertation research evaluates an online forum as a tool for deliberation between Members of Congress and their constituents. She has collaborated with the Congressional Management Foundation, Democracy Fund, and POPVOX to study tech use in the U.S. Congress.
She has written articles such as How Congress turns citizens' voices into data points and Communications technology as symbols of institutional legitimacy in the U.S. Congress.
You can read more about Sam at samiam.info
About Pablo
Pablo Aragón is a research scientist and adjunct professor at Universitat Pompeu Fabra. He is interested in computational social science and social computing through interdisciplinary and participatory approaches to characterize and facilitate participation, deliberation, and collaboration in online platforms, primarily civic technologies and social media. These interests have led him to participate in EU-funded research projects like DECODE, focused on free open-source infrastructures to increase data sovereignty of European citizens; or D-CENT, committed to transforming democratic decision-making through free open source digital technologies. Pablo actively contributes to projects at the intersection of data, technology, and democracy, and serves as a board member of Decidim, the free open source platform for participatory democracy.
He has written dozens of articles in journals and conferences about topics like online participation in civic technologies and the network structures of grassroots movements and political parties on the Internet.
You can read more about Pablo at elaragon.net