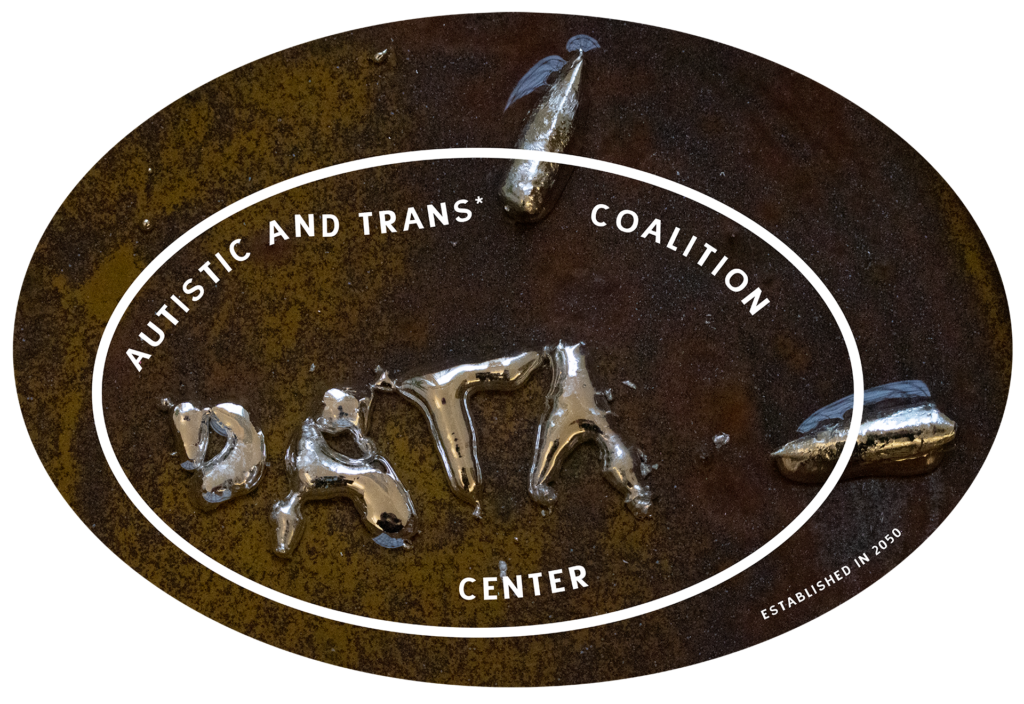 Join us for a workshop / role playing game session in which we playfully reconfigure what data may mean for trans* and disabled people.
The year is 2300 and you have been dropped into the historic Autistic & Trans* Coalition Data Center from the year 2050. Around you the hums of old servers flicker on and off like candles about to be extinguished. You turn to your friend and say "Trans* and disabled people are brilliant, aren't we?." You smile, nod and roll forward wordlessly continuing your mission. You come upon a plaque on the wall, the text difficult to read but thankfully you have an unscrambler with you — you learn: "This data center has been built on the premise to only store data that is of use to Trans* and disabled people. It is driven by a curiosity to learn about our shared and plural patterns of experience, access to health care and diagnosis, and provides information on personal and medical statistics and experiences that cannot be otherwise found." After setting down your unscrambler a member of your party joyfully exclaims "its my trans*cestor!" and everyone comes over to see, feel and hear a collection of humming data points assembled mid-air, resembling Marsha P. Johnson and other members of S.T.A.R. from the beginnings of Autistic & Trans* Coalition building days in the 1970's. 
This workshop is based on MELT's research project Data for…? and asks: what kinds of sustainable data practices for trans* and disabled people do we need in a time when trans* and disabled people face multiple and varied violences in current socio-technical systems (Crawford 2016; Wachter-Boatcher 2017; Benjamin 2019; Reid & Curry 2019)?
What to bring: We will send you a short character sheet with some instructions 1 week before the workshop. Please plan in 30-60 minutes to engage with that sheet.
Time: 11:00 10:00 – 12:30 EST / 16:00 – 18:30 CET 
Date: February 24th, 2022  March 10, 2022 (rescheduled)
To register please email: christoph.becker@utoronto.ca + mail@meltionary.com 
– This workshop is open to anyone, but addresses specifically the experiences of trans* and disabled people. If you would like to be part of it and identify broadly with these experiences please add 'privilege me' to your email so that we can ensure your participation if there are many registrations.