We are delighted to share the news that the second Marshall McLuhan Centenary Fellowship in Digital Sustainability, 2017-2018, will be awarded to Maria Angela Ferrario, Lecturer in Digital Technology and Environmental Change at the School of Computing and Communications, Lancaster University, UK.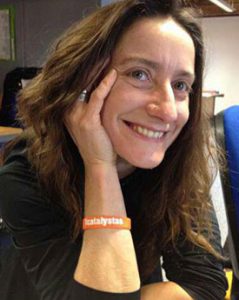 Maria Angela is a digital innovation specialist with a background in computer science, design, philosophy and social psychology and she has led several interdisciplinary projects such as Catalyst, Citizens Tools for Change and Clasp, Personalised Health IoT.
The specific focus of her Fellowship this year is on the role of human values across different time scales in data-supported decision making process relating to environmental change.
Her research interests lie in values-driven, participatory and agile innovation and in exploring the impact that digital technology has on society, in particular on the most vulnerable communities. Maria Angela is experienced in leading complex distributed partnerships that include hard-to-reach groups such as the homeless, adults with autism, and rural island communities.
Before joining academia, she worked as a Project Manager at a European agency supporting peacebuilding and reconciliation in the Irish cross border region through technology and economic development. There she gained a practice-based understanding of the impact of digital innovation on public agencies, the challenges of technology-driven change-management at scale, and the need for an agile and participatory approach to project delivery.  
Maria Angela is always keen on exploring radically new approaches to sustainable design and development; notable explorations include the use of crochet for rapid prototyping of digital wearables, 3D-printing for reflecting on our relationship with personal data , walking and mapping as means of civic-scientific action, and technology kitchens for cooking up digital innovation storms.
A full profile can be found at Maria Angela's Lancaster University page.