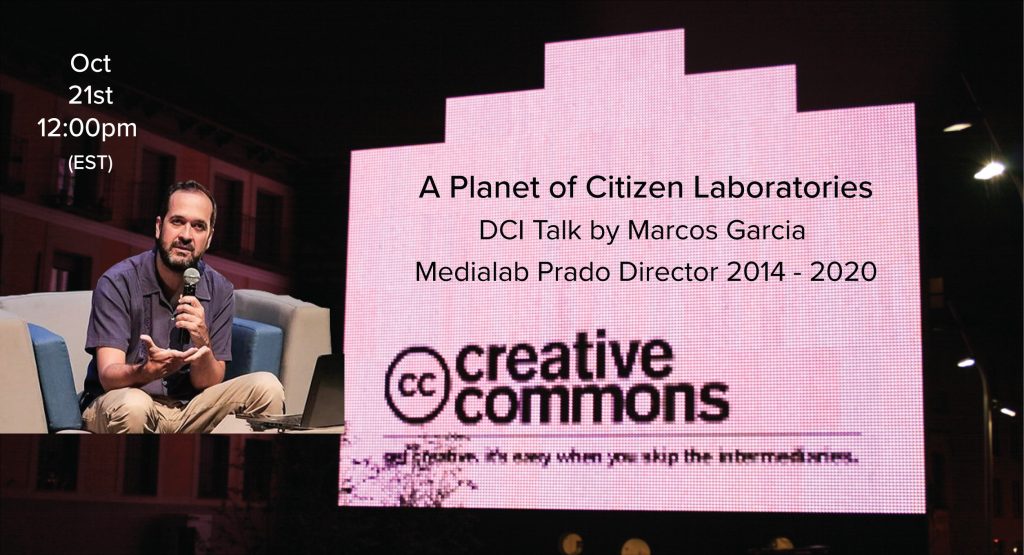 October 21, 2021, 12pm-1pm EST
Speaker: Marcos García, MediaLab Prado Director 2014 – 2020
Moderator: Associate DCI Fellow Dr. Victoria Palacin
Online event: please register here for the zoom link.
In this talk, Marcos García (Director of the Medialab Prado during 2014-2020) will talk about the distributed citizen laboratories project, a project that started in 2020 in the midst of the COVID-19 pandemic. We will hear about their approach and of outstanding projects developed by hundreds of volunteers in response to the pandemic.
Marcos García works in the field of citizen laboratories. He worked at Medialab Prado. Between 2004 and 2006 he was responsible for the educational and mediation program of MediaLab Madrid together with Laura Fernández, where they promoted the Interactivos Project, a collaborative prototyping workshop format that served as the basis for the development of Medialab Prado and its citizen laboratories methodology. Between 2007 and 2014 he was responsible for the cultural program of Medialab Prado together with Laura Fernández, and between 2014 and 2021 its director.
In 2020 Marcos designed, with the collaboration of Diego Gracia, the Distributed Citizen Laboratories project focused on citizen innovation in libraries and other cultural institutions, an initiative of the Ministry of Culture and Medialab Prado to promote the creation of citizen laboratories and cooperation between them, during the Covid-19 crisis. This initiative is part of the Library Laboratories, a program of the Ministry of Culture and Medialab Prado to promote libraries as places of collaboration, experimentation and creation of cultural projects and citizen innovation.
About the Medialab Prado
The media lab Prado was a cultural space for open experimentation. The Lab aimed at co-creating city commons through diverse initiatives, such as the Participa LAB (Collective Intelligence for Democracy), the DataLab (open data initiative), and the InciLab (Citizen Innovation Lab).
The lab had become an emblem of cultural innovation for Europe and the World, with a number of international awards and recognitions. For instance, in 2016, their collaborative culture was awarded the Princess Margriet Award by the European Culture Foundation. Further, the lab guided the creation of dozens of citizen laboratories in the Americas.
Additional information and media are available at the Eventbrite page.